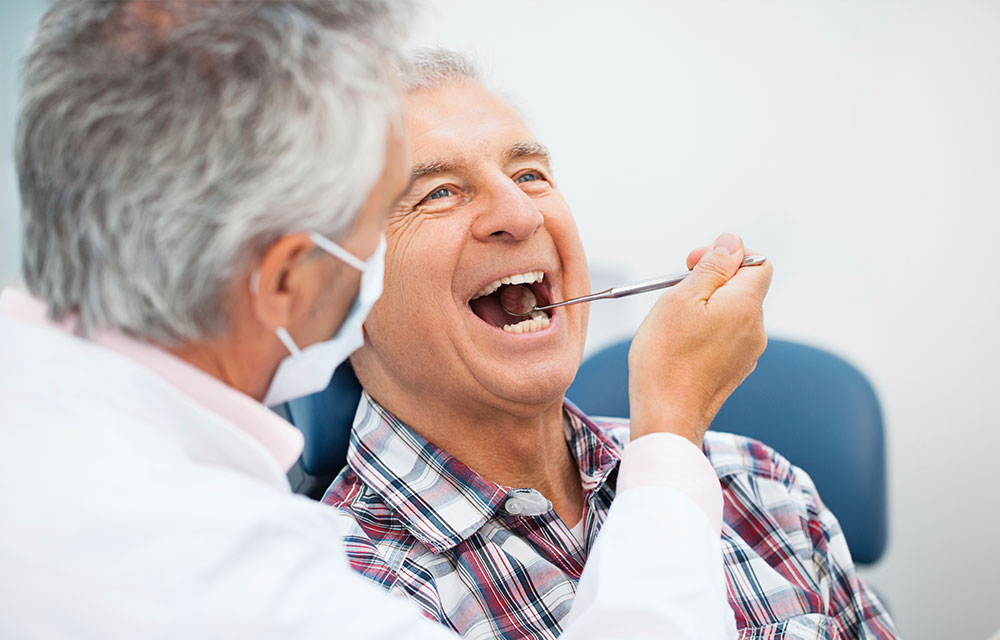 Affordable Dental Care, Seniors and the ACA
Older adults are one of the fastest growing segments of the American population and are also the most at risk when it comes to dental outcomes. And only two percent of retirees have dental coverage through a prior employer, according to Oral Health America.
Oral Care Concerns due to Aging
As our bodies age, they develop a unique set of dental health needs. Without regular visits to the dentist and good oral hygiene a number of problems can arise: According to the Center for Disease Control and Prevention one in four seniors have lost all of their teeth.
Seniors are also susceptible to:
Dry mouth
Root decay
Gum disease
Uneven jawbone caused by tooth loss
Denture-induced tissue inflammation
Overgrowth of fungus in the mouth, known as thrush
Attrition (loss of teeth structure by mechanical forces)
Oral Cancer
These conditions can lead to further problems which adversely affect a senior's ability to maintain a healthy lifestyle and quality of life; including the inability to chew or eat, mouth and gum pain, irritation due to ill-fitting dentures and implants, missing teeth, cavities and decay.
Senior Dental Care Options through the ACA
The ACA does not require adults to have or purchase dental insurance and few of the plans you'll find on the Marketplace will include dental benefits.
Stand-alone dental insurance policies are available through the federal health Marketplace, healthcare.gov, but only with the purchase of a medical insurance plan from the Marketplace.
And federal subsidies are not available for stand-alone dental plans.
A few state-run marketplaces do allow residents to purchase stand-alone dental plans without the requirement that they also purchase a health insurance policy.
You can also obtain dental insurance plans from brokers, agents and insurance companies.
Senior Dental Care Access through Medicare
Medicare, the largest health insurance provider for adults 65 and older, does NOT provide coverage for routine dental care. Medicare only pays when dental care and medical needs intersect. Medigap, a private insurance plan that supplements Medicare coverage, doesn't offer dental coverage, but some private Medicare Advantage managed care plans do offer dental benefits.
Medicare recipients are legally permitted to purchase dental plans on the ACA Marketplace, but the process isn't easy. As noted in the section above, stand-alone dental plans are not eligible for subsidies. And in the states where the ACA Marketplace is run by the federal government, dental coverage is available only to those who also buy health insurance.
Senior Dental Care Access through Medicaid
Medicaid is the federal-state partnership program that provides health care coverage for low-income Americans, including seniors.
Under the federal law, dental benefits are an optional service for state Medicaid programs. States can include adult dental benefits in their Medicaid programs. Many states do provide dental benefits for adults; however the status and extent of those benefits vary by state and by year, depending on the availability of state funds to support such benefits.
Currently, 21 states offer comprehensive dental benefits.
Senior Dental Savings Plans
Many seniors have dental health issues, and hope that by purchasing a standard insurance plan they will be able to afford to get treatments that they have been delaying due to cost. Unfortunately traditional dental insurance often does not cover preexisting conditions, nor will it pay to replace teeth that were lost prior to purchasing the coverage.
In contrast, dental savings plans offer the opportunity to obtain affordable treatment for existing oral health problems.
Dental savings plans are a smart, sensible alternative to dental insurance plans. For a low yearly fee, plan members have access to a network of dentists who have agreed to offer discounted rates. Typical savings range from 30-60%, depending on the dentist you choose and the services you require.
There are no claims to file, as you pay the dentist the discounted rate on the spot. There are also no annual limits (caps) on coverage, so you can always get exactly the care you need when you need it.
Find out more about dental savings plans for seniors here.