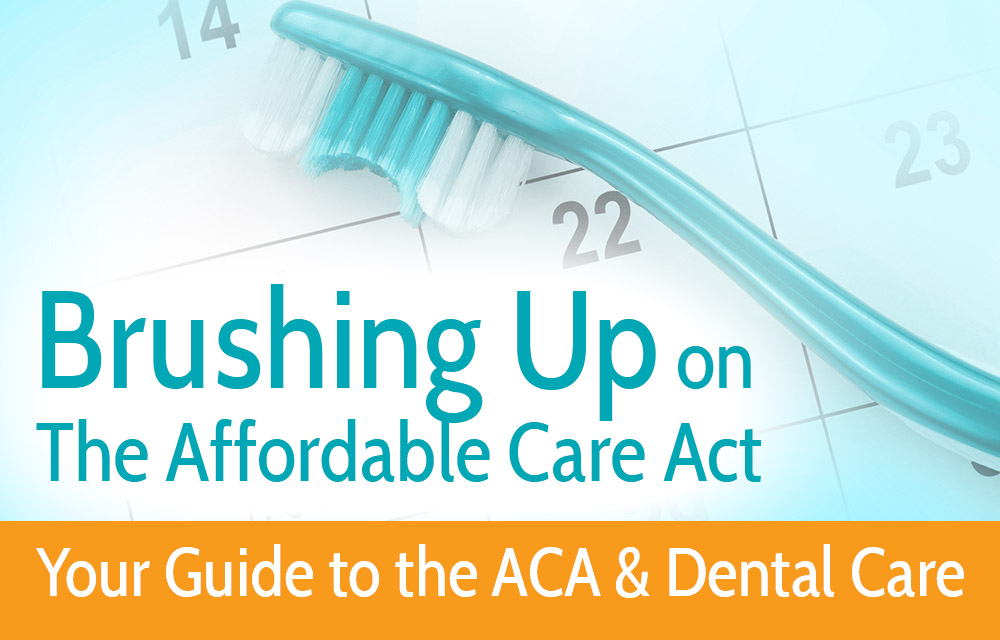 ACA Dental Insurance 2020
If you're confused about dental insurance as it pertains to the Affordable Health Care Act—also known as the ACA, ObamaCare, heathcare.gov, or the insurance Marketplace - you've come to the right place. DentalPlans.com is your one-stop resource for all things dental, from our savings plan offerings to providing the information that you need to make the best choices about your dental health.
ACA Open Enrollment For 2020 Coverage
November 1, 2019: Open Enrollment begins – starting on November 1, you can enroll or change your ACA insurance coverage for 2020. Your coverage begins Jan. 1, 2020.
December 15, 2019: Open Enrollment ends. December 15 is the last day to enroll in or change plans for 2019 coverage.
Dental Insurance and the ACA
ACA Coverage: What's new for 2019:
The "Individual Mandate" – the tax penalty for not having minimum essential coverage will no longer be in effect in 2019 and beyond. But be aware that some states may roll-out their own mandates with tax penalties for non-insured residents. Massachusetts has had a mandate since 2006, New Jersey is instituting one in 2019. Other states may soon follow suit, pay attention to what your state may require when choosing coverage.
Dental insurance changes: Stand-alone pediatric dental insurance policies sold through the marketplace no longer have to meet "Actuarial Value" (AV) requirements. Previously, ACA-complainant dental insurance had to cover approximately 85% or 70% of total allowed claims, and have a $350 limit on out-of-pocket spending ($700 for multiple children under the same policy). For 2019, ACA-compliant pediatric standalone dental plans no longer have to meet a specific AV range. This may result in more dental insurance options available via the ACA marketplace, but check dental insurance plans' coverage carefully to ensure you're getting the coverage you expect or need.
Income verification: The federal government has stated it will take stronger measures to verify that anyone applying for Advanced Premium Tax Credits actually qualifies for the credit.
Need Dental Insurance?
Given the efforts to "repeal and replace" the ACA, the expected growing volatility in the Federal and State Healthcare Markets, and the notable lack of dental insurance coverage options for adults under Obamacare, it makes sense to explore other options for reducing dental costs.
Traditional dental insurance plans help you fit the cost of expensive dental treatments into your budget. Most dental insurance plans cover 100% of the cost of preventive care such as cleanings, checkups and x-rays, 80% of basic treatments such as fillings, and 50% of more complex procedures such as root canals and crowns. Coverage begins after you have met your deductible – which is typically $50-$150 annually.
When you purchase a dental insurance plan, you'll likely choose between dental HMO or PPO plans.
Dental PPO plans allow you to get care from any dentist or dental specialist – though you'll save more on your care if you stay in-network. And while you'll usually be able to see a dentist whenever you want with a PPO plan, as a new plan member you're likely to have to wait for months before your plan provides coverage for more expensive treatments such as bridges and crowns.
Dental HMO insurance plans require members to stay within network for treatment. All referrals to dental specialists must be provided by the primary dentist. While there is often no waiting period imposed before coverage kicks in, an HMO plan may limit the number of times that you can see a dentist annually.
PPO premiums – the price you pay for your insurance - tend to be higher than those for HMO plans. But no matter which type of plan you choose, there will be a low annual coverage limit. Virtually all dental insurance plans cap coverage at $1,200-$1,500 annually.
Reduce Dental Costs with Dental Savings Plans
Dental savings plans are an affordable alternative to traditional dental insurance. Plan members save 10%-60% on dental care costs. And dental savings plans do not have spending caps, exclusions for pre-existing conditions, or waiting periods associated with insurance.
You can start saving on your dental care fast with a dental savings plan - plans activate within 72 hours, and some can be used within just 24 hours of joining.
And if you're struggling to meet out-of-pocket insurance costs, you'll be happy to know that many of the plans offered by DentalPlans.com also include savings on general healthcare needs, including vision and hearing services, prescriptions, chiropractic, and more.
Ready to start saving on your dental care?  Call us at 1-888-632-5353 to determine which dental savings plan best meets your needs, or use the DentalPlans.com search tool to find and join your plan.